When Fadie Arabo saw his father undergoing a complete tooth extraction, he realized there was a deficit in his family's dental health education and wanted to make sure no one else got it. to undergo the process unnecessarily. So he did something about it. The young Sterling Heights resident started an education initiative in March last year called Teeth4Totsaimed at better connecting children to oral hygiene.
Since then, nearly 100 volunteers from across the United States have joined the nonprofit program, which hosts online events, outreach programs in South America and caught the attention of the Michigan Dental Review Journal. The group uses social media, art and science projects to raise awareness and plans to release an e-book in April. Arabo shares his motivations and challenges with Metromode.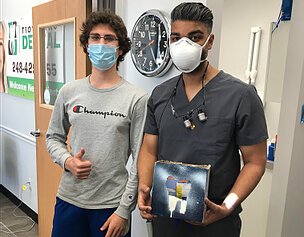 Fadie Arabo's non-profit initiative, Teeth4Tots, provides resources for dentists to help them interact with young children. Metromode: How does the Teeth4Tots volunteer program work?
Arabic: Potential volunteers fill out a Google form which can be found in the link in our Instagram bio, @Teeth4Tots. From there, they receive a greeting and are assigned a task. For example, a volunteer may be given an assignment to create art depicting the specifics of periodontal disease and its effects if left untreated. We also host monthly events, which we do quite often now.
How does your Dental Boxes initiative work?
Dental boxes are a way to show our appreciation to dentists. Anyone who is interested creates a strong cardboard box in the shape of a tooth and designs it with objects inside. For example, I created a dental box with note sheets inside explaining why it's so important for young children to brush their teeth. The dentist who receives this box can, in turn, distribute the note sheets to his patients.
What was the biggest challenge for you in developing this non-profit organization?
I would say that the biggest challenge of building this company so far has been getting the origins action registered as an official 501-c-3. We know it's a long thing, but very rewarding at the same time.
What kind of reaction have you had to the project so far?
The projects have received a lot of positive feedback. We are always marked by the dental clinics to which we deliver art and we are proud of it. Volunteers, participants and partners responded in the same way. We have an enthusiastic team that always wants to do more to inspire our young people.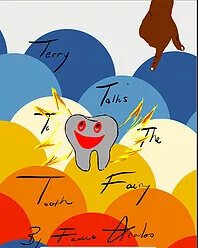 What is the next step for your initiative?
The next step for Teeth4Tots is partnership. We are currently looking for local partners to expand our mission and get our name out there. Also, an e-book I've been working on should be finished in the coming months, "Terry Talks to the Tooth Fairy".
What is a moment that inspired you on this journey?
The only time that reassured me that I was on the right track on this project is what I want to do was when we were featured in the journal of the Oakland County Dental Society. This moment reassured us that we would earn more in the dental community and really helped me improve my skills in dentistry.